Guests Comments
September
On our honeymoon week! Firstly, thank you so much for the flowers, wine etc, coupled with our first realization that this really is the most stunning and well equipped holiday flat we have ever been in and the band and dancers in the square when we first arrived,

made our honeymoon get off to a flying start! We've had a fantastic week and will be sorry to leave tomorrow.

This holiday flat is perfect, so beautifully put together with so much thought clearly put into the comfort elements! Bravo!
Ingrid & Gary Lancashire UK

**********

September
At the first sight eight years ago Collioure made a deep influence on us.

The short one night stay was enough to make us want more. Now we have spent a nice week here enjoying of sunny weather, warm sea, good food and this marvellous flat feeling like home. Open-air evening concerts and walks at the shore side have been pleasant entertainment. Would love to come here again!
Tero, Seija, Heikki, Eeva-Liisa Virpi Finland

**********

August
Just want to thank you for the lovely week we had in your apartment. We were very impressed by its location, style and the different views especially from the roof terrace – Syvie & Zak
My family have spent a fabulous time here.

My mother's best moment was discovering the roof terrace, my dad's was discovering the closeness of the beach & having all the views and me and my sister was walking around Collioure on our own and feeling safe!! We all loved having dinner on the roof terrace and watching the entertainment from here and finally feeling warm again!!! Thank you for sharing your apartment with us and we hope to come back Sacha & Amber Kent UK

**********

August
Just to say a very big thank you for the use of your apartment in Collioure. We arrived in time to see the firework display on our first night, amazing!

Loved your apartment and had a wonderful week – and the sun shone - had a brilliant stay, so many thanks. Sarah, Michael, & family Oxfordshire UK

**********

August
Thanks for making our holiday in Collioure awesome – your apartment was absolutely stunning and really made out stay special – lovely terrace with stunning views – made our stay in Collioure very enjoyable – We would love to stay in your apartment again & will definitely be back in the future to enjoy the wonderful delights Collioure has to offer.
Andy, Caroline, Charlotte, James and friends West Sussex UK

**********

August
Just a short note to thank you for the use of your apartment, it is the most magnificent location and the apartment was wonderful – we especially enjoyed sitting on the roof terrace with a coffee early in the morning while the children slept - the children enjoyed a great view of the evening entertainment from the balconies. Having spent the last three weeks in France in different locations your apartment was by far and away the best.

We would love to come back another summer. Many thanks for the prompt return of the deposit.
David & Sarah & family Yorkshire UK

**********

July - August
With this being our first visit here we welcomed the liveliness yet beauty of the place and you have to appreciate the rooftop terrace - perfect place for a glass of Rose in the evening! The boys went cannoning which in their words was the 'best day ever'! The little yellow train into the mountains gives you the best panoramic view of the area.

The food, Copacabana on the seafront does a mean Paella!

Have the seafood specialities – oysters very tasty with lemon and the snails have a good kick of flavour to them. Thank you for a wonderful stay in your lovely apartment, hope to be back soon.
Steve, Collette & family Lancashire UK

**********

July
We had a fantastic 14 days stay and will love to come back.

This is our 8th year in beautiful Collioure.

But only first time in the old city.

The apartment has a perfect location, the roof terraced in the morning and the moon light is a wonderful experience! Thank you very much! Best wishes Mette, Rune & family Norway

**********

June – July
We had a completely enjoyable week in your apartment. Lovely apartment, superb location and Collioure is a great town! Nick, Laurel, Jonathan, Olivia - NJ USA

**********

June
This is our 5th visit to Collioure and certainly the best. Just wanted to tell you that we absolutely love your apartment, it is superb, in a great location and has everything you could need. The roof terrace is just something else and we were happy just to sit and gaze at the view.

Weather fantastic.. Lovely to have a choice of books and have added to it. Brilliant fireworks on the second Monday – a complete surprise for us! Your home in Collioure is just filled with such lovely things – I have gone home with all sorts of

ideas!

We are so envious of next guests arriving that we have left some 'sparkly' wine in fridge to enjoy on roof terrace. We really didn't want to leave - Thank you Sheila & Mike you have done a great job with the apartment.

Hopefully we will be in touch for next year. Yours - very sad to be going back to work tomorrow!!
Michael & Gillian Suffolk UK

**********

June
Had a great week exploring Collioure – a really special spot. We loved all the connections with the art world - M & S with all your architectural connections we're surprised you haven't marketed this as being on the Charles Rennie Mackintosh route – his ashes being scattered in the bay at Port Vendres – we enjoyed the walk to Argeles - watched a harpoon diver bring ashore a huge conger eel.

Enjoyed walk to l'Hermitage following eccentric English language directions ...altogether, sun, sea, and great food combined with a delightful apartment - thank you Monsieur & Madame Rainey –
Nick & Barbara Yorkshire UK

**********

May – June
We have just spent 3 weeks in Collioure, and what a treasure it is - so picturesque, interesting with beautiful buildings and a fascinating history - we enjoyed it all - the food,

wine, shopping, the fabulous markets –

found the people helpful and welcoming - we went on numerous trips – Barcelona, Perpignan, Carcassonne, Toulouse and Cerbere -however we were also always pleased to come home (excuse the liberty) but we really did feel at home – comfortable and secure - we loved the views from the terrace and balconies, where we would watch the entertainment. Thank you for letting us share such a wonderful place - we too would like to make here our second home – but it might just be a little too far!! Weather was pretty good too!

**********

Dear Sheila we had a wonderful time, we are most envious of you - Collioure is just such a beautiful town - we loved it

- the apartment was great, comfortable, clean, in a fantastic position - we loved the views from the roof terrace and we even enjoyed the challenge of the 62 stairs - it helped to wear off some of those beautiful pastries etc. (of which we consumed quite a few!) We all agreed that Collioure is really an undiscovered gem - we found the people welcoming and helpful, tolerant of our Aussie French and I think, a little bemused by it - we travelled around quite a bit and already we are missing France. Thanks for the opportunity you gave us to share a little bit of such a beautiful part of the world. Kind regards (and if we ever have the opportunity to come to this beautiful part of the world again, we will be in touch).
Yours gratefully Jan & Glyn – Bill & Jo Melbourne Australia

**********

March – April We had a lovely time in Collioure and a great week here in the apartment and greatly enjoyed ourselves, the flat was very comfortable with all we needed.

Thank you for the flowers, wine tea and milk which made a very cheery welcome.

Amazing weather from the strong winds of the tramontaine, in case it seemed too quiet - to blue skies and real warmth!

We visited Ceret – lots of Chagall in the museum of Modern Art and found the Royal fort worth the visit - also, the little yellow train which very quickly left the confines of the town to snake across the hills -
We would love to return.

Phil & Ann Northumberland UK

**********

March
We enjoyed our time here in this very comfortable apartment – thanks for the milk, tea and fresh flowers – much appreciated! And very welcoming (almost forgot to say thanks for the wine) - We visited the Cathar castles at Queribus and Perypereteuse – it snowed - We also drove to Figuerres and tried to find Dali's museum. We spent another day in Perpignan at the castle and also visited the Chagall museum in Ceret - the chateau here thought is in good condition and well worth the time exploring - the people in the Internet bar were always friendly and helpful - the markets on Wednesday and Sunday were good value - roast chicken and vegetables good for a meal at home with a bottle of local Rose.
Grahame & Kate Blue Mountains NSW Australia

**********

March
Well this is a beautiful town and a beautiful apartment! The terrace by far the best feature of the flat with its beautiful views. We took a day trip on the coast road to Cadaques enjoying a great paella in Port de la Selva on route - Spain is well worth the trip! In Collioure there is a great restaurant on the beach past the clock tower near the boat club that serves awesome Sangria!

We didn't get to swim as it was windy and cold but we thoroughly enjoyed our peaceful French surroundings, culture and friendly locals! Prue & Keir Sydney Australia
**********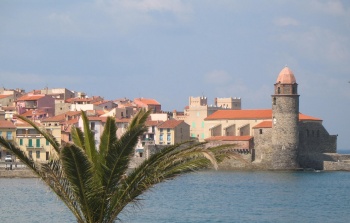 Rue de la Prud'Homie - 66190 - Collioure - France
Mike & Sheila
mobile 0044 7859058721
© Copyright 2019 Prud'Homie Collioure - holiday apartment