Collioure's History
Collioure sits on the Mediterranean coast, at the eastern end of the Pyrenees, Pyrenees-Orientales, only a few miles north of the Spanish border. It is rather like a French St Ives. Its picturesque quality and marvellous light have made it a mecca for artists for well over a century, particularly the Fauvists such as Derain and Mattisse in the early part of the 20th century. From Roman times, however, Collioure has had a military history. Its strategic position along this rugged coast made it a primary defence area and the Chateau Royal still sits resplendent and formidable in the centre.
Up until 300 years ago the region was part of the independent state of Catalonia and there is still a very strong Catalan influence today seen in the frequent 'sardane' dances, the annual bullfight and the traditional sweets and biscuits made locally. 30 years ago the principal livelihood in Collioure was fishing, a few brightly painted beautiful Catalan fishing boats still remain in the little harbour. Collioure's famous anchovies are still processed by hand in the town and you can watch the work, then sample the flavours in almost every restaurant in town.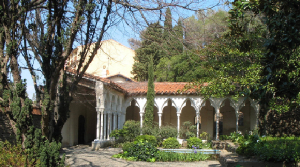 COLLIOURE TODAY
Today Collioure is a buzzing, beautiful small seaside town. The largely pedestrianised streets are a maze of twists and turns as they step up from the seafront. Within them there is a complete jumble of shops, restaurants, cafes, bars, ateliers - artists' galleries, houses and apartments all in vibrant and varied colours and with each corner revealing a new vista or architectural gem. The whole of the central area is a conservation area and is kept scrupulously clean and in full bloom by the local Colliourencs.
Collioure has three main beaches with safe swimming areas, plus several pretty coves nearby for those seeking a little more solitude. On Wednesday and Sunday mornings a bustling market is held; while throughout the months of July and August there are festivities and music, culminating with the Fete de St Vincent in mid-August with its spectacular firework display in the bay. This is a very famous display and people come from miles around to watch and from our terrace you'll have the prime spot!

COLLIOURE WINE
A remarkable wine-growing area of 1800 hectares, from these grapes the A.O.C (wine of controlled origin) are produced, Banyuls, Red Collioure, Rosé Collioure and White Collioure. The wine growers are extremely proud of their work, because of the steepness of the slopes on which the vines are grown they are unable to use machinery. This traditional method produces vintage wine that is full of life and character.